Dittrick Museum
Allen Memorial Medical Library
11000 Euclid Ave.
Cleveland, OH 44106-1714

216.368.3648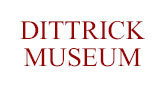 Explore the medical past, both familiar and strange, in our museum galleries, including new exhibits on the history of contraception and diagnostic medicine. Free admission.
Miles to Akron + Canton Airport: 54
Miles to Downtown: 8
Miles to Hopkins Airport: 16
Business Closed Days: Sunday, Saturday
ADA Compliant:
Accessible Bathrooms:
Level or Ramp Entrance into Building:
Group Friendly:
Group Tour Available:
Secure Bicycle Parking:
Family Friendly:
Tours Available: Self-Led Tour
Free Admission:
Attraction Type: Museum
Attraction Space Detail: Indoor Attraction, Restrooms On-Site
It's officially football season! Cheer on the home team when you visit for a Cleveland Browns game...
Show this coupon for 15 % off your next visit.